Social event and dinner
The IFM & ABZ 2012 Social Event will be a guided tour sightseeing through the City of Lucca.


Lucca retains the charm of a small and ancient Italian city-state. His cautious policy allowed it to remain forever free and independent. Then miraculously remained untouched by the destruction of war, still retains an intact one of the most important artistic heritage of Tuscany. The imposing Renaissance walls completely surround the towers and medieval streets lined with elegant shops, beautiful Romanesque churches and light squares, creating for the visitor new and unexpected perspectives. Without traffic, the historic downtown of Lucca offers the possibility for the visitors to immerse themselves in a rare ancient atmosphere, which allows to regain a sense of time and space lost by the modern cities of today
In the town you will be able to see:
Piazza S.Michele in Foro, with its Romanesque church;

Piazza Napoleone, where you can admire Palazzo Ducale and the Teatro del Giglio;

Duomo di San Martino, the fundamental goal for medieval pilgrims that came here to venerate the image of the 'Holy Face o Christ', still the symbol of the city. Inside the sacristy, there is the chance to admire the famous sarcophagus of Ilaria del Carretto, by Jacopo della Quercia;
Features medieval streets, among which the way of antique and elegant Via Fillungo;

Piazza Anfiteatro, founded on the ruins of an ancient Roman arena, remains one of the most picturesque places of the city;

Tower Guinigi unique, it keeps on the top an attractive roof garden with trees;

Basilica of San Frediano, one of the oldest churches in the city characterized by a beautiful mosaic on the façade;

Sixteenth century walls, once a defense against the enemy, now become a park to walk, bike or coach.

For even further information about the city of Lucca, you can refer the Lucca Official Tourism Website
Some useful link more:
Luccaterre Site
Lucca Virtual reality movies and free mp3 audio guide
wikitravel (Lucca)




A static map of Lucca (click to enlarge):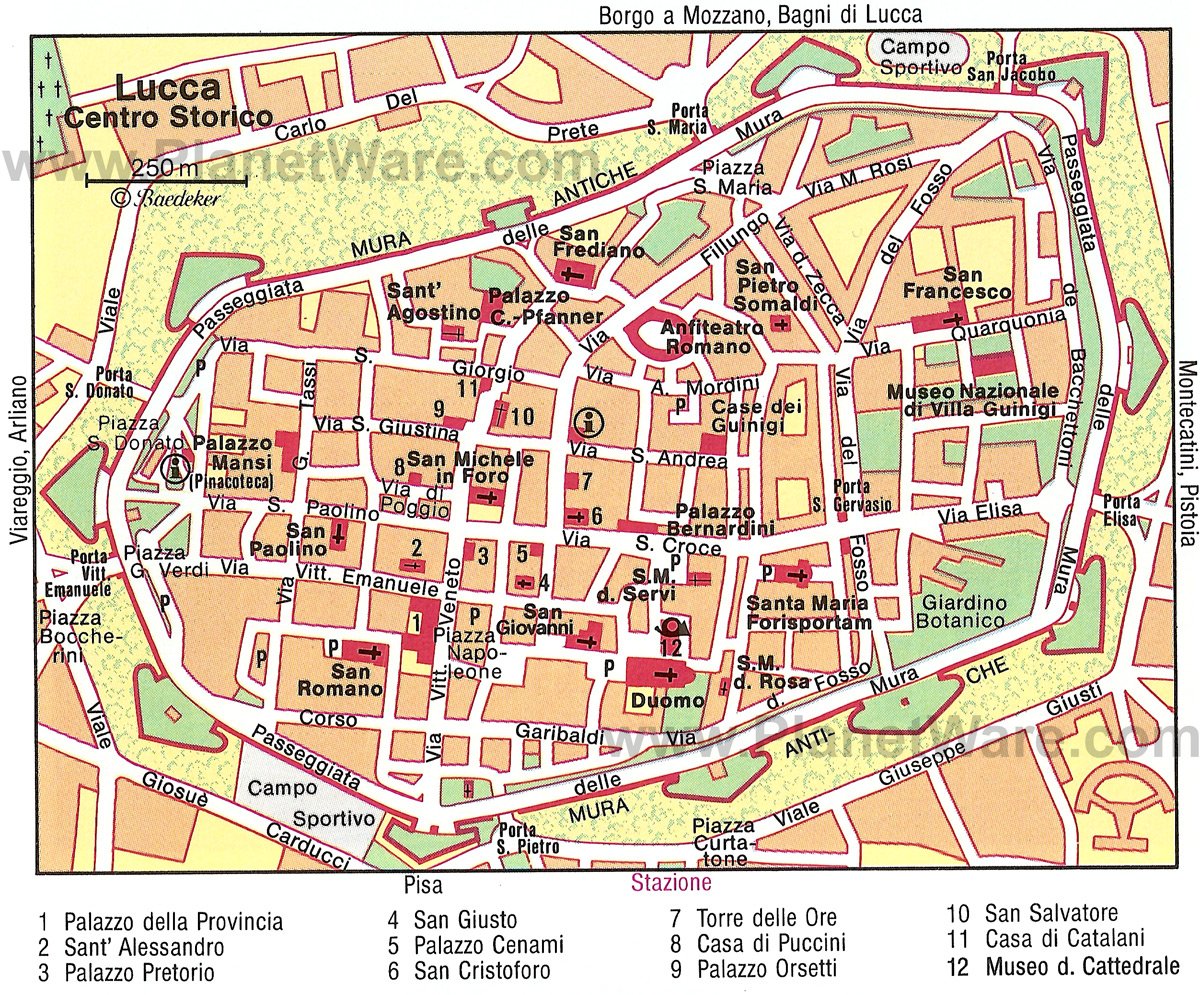 Following the guided tour of the town the conference banquet will be held in the "Gli Orti di via Elisa" restaurant right in the historic centre of Lucca.